At Lake Health and Chiropractic, we take great pride in providing the finest chiropractic wellness care to our patients. With chiropractic, massage, acupuncture, health and wellness coaching, and esthetics on site, we are here to help with your whole health needs.
Scroll below to learn more about each of these services: Chiropractic, Massage, Acupuncture, Health and Wellness Coaching and Esthetics.

---
Chiropractic Services
Spinal Adjustments
Your doctor will use your x-ray findings and examination to determine which segment(s) in the spine, pelvis, and/or extremities are causing your problem, or which area(s) are cause for concern for future problems if left untreated now.
Spinal adjustments restore motion to joints of the spine and extremities. Restricted joints cause pain, inflammation, and eventual degeneration. Restored motion results in proper spinal alignment, relief of nerve irritation, and overall better health of the muscles, tendons/ligaments, and bones of the spine and extremities.
Regular chiropractic care has many similarities to regular dental care. Catching a small problem like a spinal joint not moving through its entire range of motion smoothly, is like catching a cavity early at your dental check-up. By filling the cavity early on, you prevent needing a much more painful and serious root canal later on. A dysfunctional spinal joint is going to cause inflammation in the joint. That inflammation in the joint is actually what softens the bone and causes degenerative changes in the spine (i.e. degenerative discs, bone spurs). As long as the joint has a full, healthy, range of motion, inflammation does not sit and build in the joint, and degenerative changes don't occur. We want you living life pain free now, but it's just important to us that we keep your spine healthy well into the later decades of your life. One of the ways we ensure we are doing that is via spinal x-rays.
---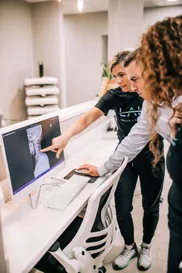 X-Rays
Chiropractors look at spinal x-rays to evaluate for fracture, malignancies, and other malformations, but in addition to that, we also take measurements and evaluate the alignment and structure of every spinal joint. When we make a chiropractic adjustment, we want the adjustment to be accurate and specific—this is what ensures that you heal as quickly and effectively as possible- having x-rays enables us to see very plainly where the problem is coming from and what we need to do fix the problem. X-rays also show us where the most stress in your spine is coming from. Stress is caused by a joint that has chronically been restricted in its normal plane of motion. Evidence of chronic stress on a spinal joint is a degenerated disc, degenerated joint, or bone spur. Once these degenerative changes occur in your spine, they don't typically "go away" on x-ray, however, by restoring motion to the joint it's occurring in, through specific spinal adjustments, we can completely stop, or at the very least, slow down the progression. Follow up x-rays can be taken yearly to confirm that the joints are not worsening over time. Just like a dentist, we need x-rays to identify the affected areas so that we can take a proactive approach to care to keep your spine healthy now and in the years to come.
Pregnancy
Throughout one's pregnancy, there may be pain and/or discomfort in the back and neck due to the ligaments and joints loosening up. Utilize chiropractic care to help realign your spinal cord and the ligaments and muscles that surround it to lessen pain and promote health throughout your pregnancy and during birth.
---
Pediatrics
It's better to raise healthy kids than fix broken adults! The best time to start getting adjusted is before there is a problem. Routine maintenance on the spine starts with the newborn. Common pediatric problems like ear infections, constipation, bedwetting, colic, and adolescent headaches may all be helped with chiropractic care. Pediatric adjustments are gentle, quick, and easy, ensuring you and your child have a great first experience with us.
---
Muscle Stimulation (E-Stim)
Muscle stimulation therapy, or E-Stim, is a therapeutic treatment that applies electrical stimulation to treat pain and muscle spasms and accelerate the soft tissue healing process. We also use this therapy to help build strength and prevent atrophy in patients with muscle injuries.
---
Intersegmental Traction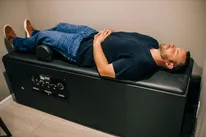 Misaligned or stuck joints in the spine can hinder your movement and lead to pain. The IST table helps by gently mobilizing the stuck or fixated spinal joints and massages connected spinal muscles and tissues. It mobilizes the spinal column, affecting not only the vertebrae, but also the discs, ligaments, muscles, and tendons. The patient lies face-up on the table while the rollers gently move up and down the spine. This restores normal range of motion to the spine and promotes blood flow to your discs, muscles, and ligaments.
Spinal Flexion/Distraction
At Lake Health and Chiropractic we use non surgical spinal flexion/distraction to help treat back or neck pain, sciatica, bulging or herniated discs, worn spinal joints, and injured spinal nerve roots. Spinal decompression gently stretches the spine to change the force and position of the spine thereby working to help restore motion and health of the spine.
---
Therapeutic Ultrasound
Therapeutic ultrasound uses sound waves above the range of human hearing to interact with tissues in the body that are either modified or destroyed. It creates a deep heat and increases the blood flow to the area being treated to help reduce local swelling and chronic inflammation.
---
Stretching & Strengthening Exercises
We teach our patients special "blueprint" exercises to help strengthen and correct their own unique problem. These exercises can be performed in the comfort of your own home and can improve the effectiveness of your spinal correction. In addition to skeletal misalignment, muscles and connective tissues can be out of place or strained by improper alignment and use. Specific exercises and stretches can help your body stay in balance and in health.
---
FootLeveler's Stabilizing Orthotics
Having good biomechanical function in your body starts with your foundation—the feet. Just like a house built on an unstable or unlevel foundation will eventually begin to crack in other areas, the tissues and joints of your body will also be affected by uneven load balances. FootLeveler's uses a high tech digital scanning device to assess the health, stability and "levelness" of the 3 arches in your feet. If a problem is detected, that scan is used to create a custom orthotic that fits easily into your shoes to restore your feet back to a balanced, level, and stable state. Footlevelers.com
---
Massage Services

Therapeutic Massage

Massage therapy offers a natural conservative treatment approach that relieves musculoskeletal pain for many patients. Our office provides specific massage and muscular therapy that is tailored to meet the patient's condition and injury. The benefits of massage therapy may include increasing blood circulation, reducing swelling, relaxing muscles, relieving muscle pain and spasms, and aid in recovery and range of motion.
Deep Tissue Massage
Deep tissue massage is mainly used to treat musculoskeletal issues. It involves applying sustained pressure using slow, deep strokes to target the inner layers of your muscles and connective tissues.
Myofascial Release
We offer an alternative medicine therapy called myofascial release that is used for treating skeletal muscle immobility and pain. Myofascial release therapy is a hands-on treatment that utilizes gentle, sustained pressure into the Myofascial connective tissue restrictions to relax contracted muscles, improve blood and lymphatic circulation, and stimulates the stretch reflex in muscles.
Trigger Point Therapy
The use of massage for trigger point therapy on a regular basis can help naturally manage pain and stress from chronic injuries. Pressure is applied to a trigger point long enough to release and relax the muscle. This increases blood flow to the muscle to allow normalization and bring it back to a health state.
Cupping
Cupping uses gentle pressure to pull muscles upward using glass or bamboo cups. Once suctioned, the cups are left in place for about ten minutes while the patient relaxes. The benefits include: releasing scar tissue and fascial adhesions, releasing trigger points, increased mobility
and range of motion, improved blood and lymph circulation, and relieving pain.
---
Acupuncture Services
Acupuncture is a treatment that inserts very thin metal needles into the skin at very specific points to stimulate healing. Some conditions commonly treated with acupuncture include:
TMJ disorders
Peripheral neuropathy
Migraines
Chemotherapy-induced and postoperative nausea and vomiting
Fibromyalgia
---
Nutrition and Lifestyle Wellness
Supplement Dispensary- Fullscript
Do you need a supplement that is not in stock? Check-out our online dispensary where you have access to thousands of high-quality supplements with the convenience of being delivered right to your door!
Click the link to sign up and get a patient discount: https://us.fullscript.com/welc...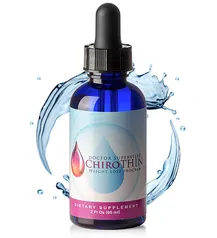 ChiroThin Weight Loss Program
It is a 6 week program designed to help you lose weight quickly, i.e., an average of
20-35 pounds. The ChiroThin formula, by ChiroNutraceutical, is a natural dietary supplement created and
produced in the United States. It contains a host of nutritional ingredients that are well known to aid in fatty acid
transportation, fatty acid metabolism, blood sugar stabilization, increased metabolism and detoxification.

When combined with a healthy blend and specific amounts of low glycemic index, antiinflammatory foods, your body will be more efficient at converting stored fat into energy. In general, ChiroThin allows the body to more efficiently metabolize fat and use it as energy when an individual consumes less calories than they burn in a given period of time. ChiroNutraceutical has specifically designed the ChiroThin formula to include precise amounts of amino acids, vitamins and cell salts for additional added benefit. Also, the ChiroThin Weight loss program includes dietary and behavioral modification guidance, as well as, a strategy, that when followed, helps provide long term weight loss.
---
Esthetic Services
Providing esthetics in an effort to maintain the health and vitality of your skin, improving its overall appearance, and combat the effects of sun exposure and aging.
---